Repertoire
Die Pupenfee (The Fairy Doll)
Josef Bayer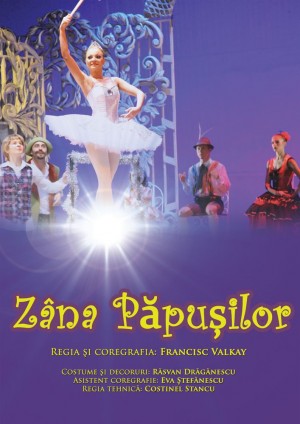 Romanian Opera Craiova Premiere
14 martie 2013
Extra info
Spectacol în limba română
Ballet in two acts composed by Josef Bayer.
---
SCENE I
The action takes place in 1888 in Vienna, in a doll store, "Kärntnerstrasse". The store owner, a typical merchant, provided rare dolls, with artistic qualities. The store also employed a highly servile assistant and a young trainee. A postman brings the mail, a commissioner brings wares, and a young girl enters with her broken doll, asking the owner to fix it. The owner refuses, since the girl has no money. Saddened, the girl wants to leave, but the trainee approaches her in secret and promises to repair the doll after the store closes.
A couple of peasants enters the store. It is the first time they have come to town and, seeing the shop window, they are amazed at the luxury of the exhibited dolls.
The owner is bowing. To whom? Of course, to a rich English family entering the store. The owner and the assistant hope they will make a good business, they servilely offer dolls for sale, as the trainee laughs at the Englishmen's silly faces. The doll the owner is showing does not work. Angry, he blames the trainee.
Disappointed, the Englishmen want to leave the store, but the owner insists that they should stay, so that they may buy a very expensive doll. In the meantime, the peasants who have witnessed the above scene, count their few money and only buy a small doll.
The owner closes the store, but the trainee goes back inside and repairs the little girl's doll in secret.
SCENE II
The trainee works during the night, in order to fix the doll. He is fatigued and falls asleep. In this dream, the dolls who are not a good to him, but works of art and science, bring him to life.
His favourite doll – The Fairy Doll – appears to him as if she were the leader of the dolls. The most beautiful dolls appear dancing from all corners. The joy of the celebration is interrupted by the appearance of the doll that failed as she was offered to the English family and because of which the young trainee had been punished. In his dream, the doll has a threatening face.
The trainee wants to run away, but, as it always happens in dreams… he can barely move his feet. The dolls come and help him, closing the broken doll in her box, and the party continues. Suddenly, everything becomes dark, and the young man finds himself sitting on the floor. Disappointed, he realizes everything was a dream. In the meanwhile, the sun has risen and the little girl knocks at the shop window.
Happily, the young trainee shows her that he has met his promise, fixing the doll.
* Francisc Valkay – choreographer