Repertoire
Falstaff
Giuseppe Verdi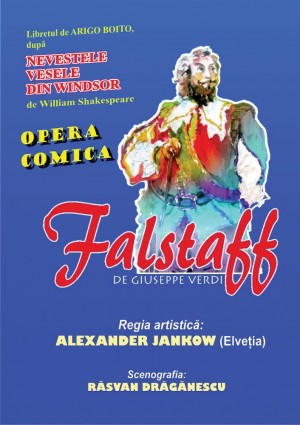 World premiere
Teatro alla Scala din Milano, 9 februarie 1893
Romanian Opera Craiova Premiere
29 iunie 2006
Time Length
aprox. 3h – două pauze
Extra info
Spectacol în limba italiană cu supratitrare în limba română
Opera buffa in three acts composed by Giuseppe Verdi.
Libretto by Arrigo Boito, adapted from Shakespeare's Henry IV and The Merry Wives of Windsor. It was Giuseppe Verdi's last opera.
---
The action takes place in the small English town of Windsor, during the reign of Henry IV.
ACT I
Scene 1
At the inn where he has taken shelter, the old, fat and boastful knight John Falstaff scornfully discusses with Dr Caius, who accuses him of treachery. He calls his servants, Bardolfo and Pistola and asks them to deliver love letters to some ladies in town. The two men refuse him in the name of honour, which makes him angry.
Scene 2
Alice and Meg are amused by the letters they have received from Falstaff, with an identical text. Together with Ms Quickly and Nanetta, Alice's daughter, they decide to teach him a lesson. They are supported by Fenton, a young man who is in love with Alice's daughter.
ACT II
Scene 1
Ms Quickly comes at the inn announcing that Alice is waiting for her admirer at home, "from two to three o'clock". Ford, Alice's husband, suspicious, comes in and offers his services, only to find out that a date has already been set. He is consumed with rage.
Scene 2
The women are amused by Falstaff's upcoming visit. At the same time, they promise Nanetta that they will help her achieve her dream of marrying Fenton, instead of Dr Caius, who had been chosen by Ford. Falstaff arrives and begins his gallantries, only to be interrupted by Ms Quickly who announces that Ford and a group of men are coming to punish him. After a crazy run through the house, Falstaff escapes hidden in the laundry basket, which is eventually thrown to the Thames.
ACT III
Scene 1
Having returned at the inn, Falstaff is getting dried, meditating on the surprises of life. He is suspicious at Ms Quickly, who is delivering a new message. However, he accepts to meet the ladies at night, in the town park, dressed up as Herne the Hunter.
Scene 2
The women have organised a genuine masked ball. They are waiting for Falstaff, who is coming to the rendezvous swinging his belly. He has no time to rejoice the company of Alice and Meg. Leprechauns and supernatural creatures are all over the place, tormenting him. Desperate, Falstaff capitulates, accepting his guilt. Ford asks his wife for forgiveness for having suspected of her wrongly and, in order to make up to everyone, he proposes that the ball should end with Nanetta's marriage. But he is tricked as well as he sees he has blessed the union of Caius and an unknown girl, which is actually Bardolfo in disguise. Nanetta and Fenton beg him to forgive the trick, and Ford has to agree. A great choir (fugue) ends the party, as Falstaff concludes that he has won in the end, since his intelligence has managed to amuse everyone in a world which, after all, is nothing but folly.
*Grigore Constantinescu & Daniela Caraman-Fotea, Ghid de operă, Bucharest, 1971
**Ana Buga & Cristina Maria Sârbu, 4 secole de teatru muzical, Bucharest, 1999
***Ioana Ștefănescu, O istorie a muzicii universale, Vol. IV, Bucharest, 2002