Repertoire
I Pagliacci
Ruggiero Leoncavallo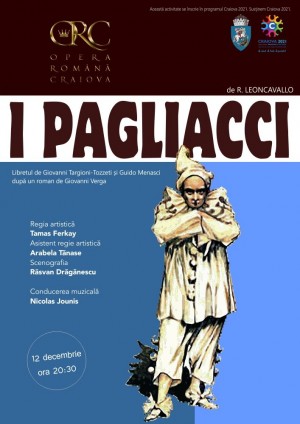 World premiere
Teatro Dal Verme din Milano, 21 mai 1892
Romanian Opera Craiova Premiere
20 mai 2004
Time Length
aprox. 1h, 10'
Extra info
Spectacol în limba italiană cu supratitrare în limba română
Opera in two acts and a prologue, composed by Ruggero Leoncavallo.
Libretto: Rugerro Leoncavallo.
---
The action takes place in the Calabrian village of Montalto (southern Italy) on August 15, 1865.
PROLOGUE
The prologue is exposed by one of the characters of the opera, the commedia character Tonio. He underlines that the plot we are about to see is inspired from real life. The actors who shall take stage should not be thought of as simple comedians, whose purpose would only be to entertain the audience; they are first of all people, with their natural feelings.
ACT I
The market of the Calabrian village of Montalto. The peasants joyfully welcome the arrival of the commedia troupe. The leader, Canio, announces the crowd that a comedy show will be organised that night, and invites everyone. As Tonio, whose ugliness has resulted in him always playing the part of the buffoon in the comedy, tries to help Nedda get down from the carriage, he is brutally pushed aside by Canio, who is ferociously jealous and allows no one to come close to his wife. Humiliated, Tonio has difficulty in hiding his desire for vengeance. The peasants invite the comedians to a glass of wine, and Canio and Beppe are happy to join them. Only Tonio stays aside. Jokingly, the peasants say that maybe this is why he does not join them, in order to remain alone with Nedda. Hearing these words, Canio suddenly becomes serious. He only accepts being laughed at on the stage, but in real life he is jealous of Nedda and he even threatens her, since she has lately become estranged. The bells toll and the peasants go to their homes. Nedda, alone, is haunted by Canio's words, but she soon calms down and her heart is full with joy again. Tonio has always looked further to finding Nedda alone; now he comes closer and fervently declares his love, but she mocks him. As Tonio becomes aggressive and tries to grav her, Nedda whips him away. Enraged, Tonio leaves, swearing he will take revenge. Silvio, a young peasant who is in love with Nedda, appears. The two lovers exchange vows of faith. Nedda has indeed had enough of the uncertain life of comedians and, after a short hesitation, she accepts her lover's proposal of running together that very same night. Their rendezvous has been observed by Tonio, who runs to Canio, so that he may surprise them. They come back just as Nedda promises to Silvio that she'll become his forever that very night. Canio chases Silvio, but the man manages to disappear without being recognized. Since, despite all threats, Nedda refuses to disclose the name of her lover, Canio takes out a knife and tries to kill her. He is prevented from doing this by Tonio and Beppe, who take the knife away from him. However, Tonio whispers to Canio that he should closely supervise Nedda, since the young peasant is bound to come to the act and he may be recognized. Canio is left alone. Though his heart is torn with grief because of his wife's treason, he must play his comedy part, entertain the public and laugh.
ACT II
An orchestral intermezzo, based on the theme in Canio's aria and on the main theme of the prologue, foresees the tragic denouement. The same setting. The peasants have gathered in front of the stage set up by the comedians and anxiously wait for the show to begin. The comedy begins, and the action is similar to what has happened in real life: Colombina (Nedda), knowing that her husband is away, is waiting for her lover, Arlecchino (Beppe). He serenades her from beneath the window, and hearing him Colombina asks him to come upstairs. Taddeo the fool (Tonio) appears instead, who bores her with his silly love declarations, until he is chased by Arlecchino. The date of the two lovers is interrupted by the arrival of Pagliaccio (Canio), Colombina's husband, who arrives just as Colombina promises her lover Arlecchino that she'll become his forever that very night (the same words that Nedda had told Silvio). In the beginning, Canio controls his feelings, but the similarity of the situation in the comedy to his own psychological drama makes him forget his part and the acting suddenly turns into reality. He insistently asks Nedda to disclose her lover's name. Nedda refuses to do this and tries to go on acting as Colombina, pretending not to understand the situation. Enraged, Canio threatens her with a knife, then, seeing her determined refusal, and her desperate attempts at running from the stage, stabs her in the chest. Hearing her screams for help, the young Silvio who was in the crowd rushes to the stage, but Canio kills him as well. To the peasants, horrified by what had happened, Canio says in a sinister voice: (La commedia è finita! – The comedy is finished!)…
*Grigore Constantinescu & Daniela Caraman-Fotea, Ghid de operă, Bucharest, 1971
**Ana Buga & Cristina Maria Sârbu, 4 secole de teatru muzical, Bucharest, 1999
***Ioana Ștefănescu, O istorie a muzicii universale, Vol. IV, Bucharest, 2002