Repertoire
Peter Pan
Laurențiu Profeta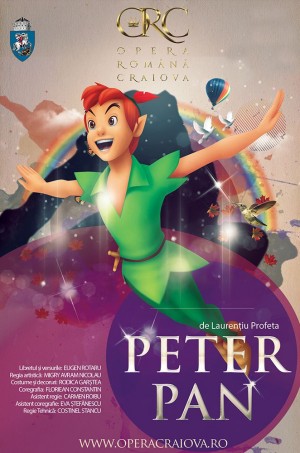 Romanian Opera Craiova Premiere
12 octombrie 2013
Time Length
aprox. 2h – o pauză
Extra info
Spectacol în limba română
Musical in two acts, composed by Laurențiu Profeta.
Libretto and lyrics by Eugen Rotaru, based on James Matthew Barrie.
---
"To those who are or have managed to remain children, I dedicate the message of my music, from the deep of my heart."
*Laurenţiu Profeta – composer
"Stories have no age and there is no specific age to tell stories. Writing for children is a blessing for the spirit, but also the major prerequisite to stay young. With love and care, I have decided to write this libretto for the children, and for their parents and grandparents as well."
**Eugen Rotaru – librettist
"Who is Peter Pan actually? No one knows and this makes him even more appealing. Peter Pan does not know who he is either, but he says: I am childhood, and play, and joy. Does he believe what he is saying? Anyway, he pretends to be convinced of it, since, otherwise, this would mean that he no longer exists, and he does not have the courage to face such a trial.
We all need a Peter Pan! We need to dream, to hope, to fly to…
All the children of the world need someone to protect and love them. They need a space where they can play freely, fearing nothing.
I am happy that, approaching the wonderful work by Laurentiu Profeta and Eugen Rotaru again, I have had the opportunity to work with the exceptional team of the "Elena Teodorini" Lyrical Theatre of Craiova. I am happy to meet (for the thousandth time) these artists I think of as my children. I am happy to meet Peter Pan because I also WANT TO PLAY THEATRE all my life".
***Migry Avram Nicolau – director
"IDEAS, STATES… NOT FIGURES! This is what I have sought to accomplish with the entire team of actors, vocalists and ballerinas."
****Constantin Floriean – choreographer