Repertoire
Rustic Chivalry
Pietro Mascagni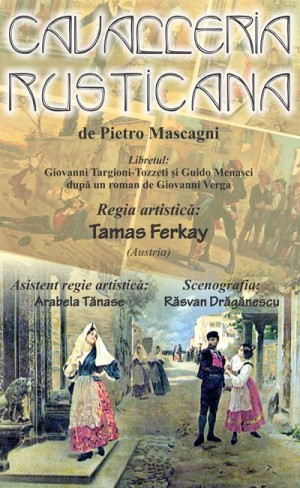 World premiere
Teatro Costanzi din Roma, 17 mai 1890
Romanian Opera Craiova Premiere
20 mai 2004
Time Length
aprox. 1h, 10'
Extra info
Spectacol în limba italiană cu supratitrare în limba română
Opera in one act, composed by Pietro Mascagni.
Libretto by Giovanni Targioni-Tozzeti and Guido Menasci, based on a novel by Giovanni Verga.
---
The action takes place in a village of Sicily, on Easter Day, at the end of the 1890s.
When the curtain rises, a serenade (The Siciliana) is heard, sung by Turiddu under the window of Lola, his former girlfriend. She had married another man while Turiddu was serving in the army. For consolation, Turiddu had found another girlfriend, Santuzza and had sworn to marry her. However, forgetting his promises, he went back to Lola. While the peasants thing of the joys of spring, Santuzza asks Turiddu's mother for news on him. Several people had seen him around Lola's home. Asked by Santuzza where he had spent the night, Turiddu answers indifferently, then reacts in a violent manner. Lola's appearance exasperates Santuzza and as she meets Alfio, Lola's husband, she tells him everything. Alfio swears he will take revenge. After a brief orchestral intermezzo, the action precipitates. As soon as the Easter party ends, Alfio and Turiddu have a heated exchange of words. A last goodbye of Turiddu to his mother Lucia precedes the confrontation of the two men. A woman brings the tragic notice: Turiddu has been murdered.
*Grigore Constantinescu & Daniela Caraman-Fotea, Ghid de operă, Bucharest, 1971
**Ana Buga & Cristina Maria Sârbu, 4 secole de teatru muzical, Bucharest, 1999
***Ioana Ștefănescu, O istorie a muzicii universale, Vol. IV, Bucharest, 2002