Repertoire
The cousin from nowhere
Eduard Künneke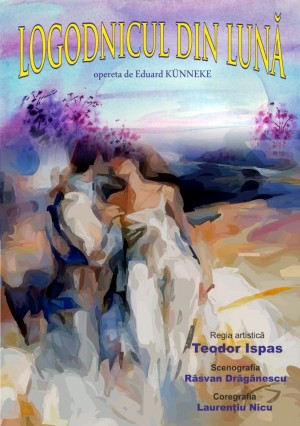 World premiere
Theater am Nollendorfplatz din Berlin, 15 aprilie 1920
Romanian Opera Craiova Premiere
31 octombrie 2009
Time Length
aprox. 2h, 30'– o pauză
Extra info
Spectacol în limba română
Operetta in three acts composed by Eduard Künneke.
Libretto by Herman Haller and Fritz Oliven (Rideamus), based on a comedy by Max Kempner-Hochstädt.
---
The action takes place in the southern Dutch town of Weert, in 1921.
ACT I
Julia, a young and nice girl, romantic and somewhat exalted, has inherited a splendid villa from her parents. However, her guardian, Joseph Kuhbrot, has become an absolute master of everything. He satisfies all his culinary pleasures as he wishes and simply harasses Julia with the proposal of marrying his nephew, August Kuhbrot. Thus, the fortune will stay with the guardian's family. The young girl firmly rejects this proposal. She does the same with the silly son of councillor Wildenhagen, Egon, who insists on marrying her. She is always thinking of her first love, Roderich de Weert, to whom she vowed faith many years ago, when the young man went to Batavia. As they said goodbye, the two lovers swore that they will look at the moon every night, in order to remember one another. This is why Joseph mocks Julia, saying she has a fiancée "from nowhere". The girl is indifferent to the guardian's spirits, especially now that the guardianship court has declared she has come of age. Together with the funny Hannchen she is amused as she receives the unexpected visit of a late traveller, a nice, but poorly dressed young man. They even play a trick on him, trying to convince him that he is in an enchanted castle and serving him as if he were a honoured guest.
ACT II
The Stranger understands their game and plays along. As Julia asks him who he is, the young man portrays himself as romantically as in her dreams (aria "I am a wanderer, forever traveller"). After having had a good night's sleep in the bed he had been prepared, as he wakes up, the Stranger finds out from Hannchen of the romantic exaltation of young Julia for Roderich, as well as of Kuhbrot's plan. Of course, the traveller does not say who he is, and everyone, Julia most of all, consider he is Roderich. Julia is happy to have found her first love in the Stranger (duet "Do you remember when we were kids…"). Uncle Joseph, instead, is unhappy and grumpy with the unexpected arrival of the fiancée "from nowhere". The comedy is abruptly ended by the appearance of Egon, who brings a telegram notifying the immediate arrival of the true Roderich. Having been exposed and now considered a charlatan, the Stranger leaves.
ACT III
Joseph makes inquiries with the head of the railway station and finds out that his nephew had arrived on the previous day and he had been directed to the village inn. The old man tends to think that August may have been murdered, and the assassin can only be the Stranger, who is now gone. In the midst of all this confusion, which results in general agitation, another Stranger appears, who surprises Hannchen as she is fervently praying to the brides' fairy, so that she has her own lover. The two like each other from the first moment, and the girl is startled to find out that this man is no one else but Roderich de Weert and that he does not even remember his commitment to Julia, thinking of it as a teenage game. How will Julia react? Through a trick plotted by Hannchen, everything turns out perfectly. Roderich introduces himself as August Kuhbrot, attracting Julia's aversion from the very beginning. Then, telling the truth, he confesses to not having met his commitment. Only now does Julia wake up for her dream and agrees to marry August, the first Stranger, who had come back in the meanwhile and whom she had liked from the beginning.
*Titus Moisescu & Miltiade Păun, Ghid de operetă, Editura Muzicală a Uniunii Compozitorilor, Bucharest, 1969