Repertoire
Tosca
Giacomo Puccini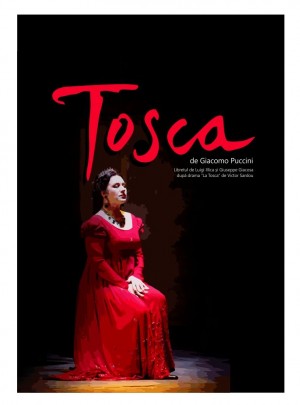 World premiere
Teatro Costanzi din Roma, 14 ianuarie 1900
Extra info
Spectacol în limba italiană
Opera in three acts composed by Giacomo Puccini.
Libretto by Luigi Illica and Giuseppe Giacosa, based on La Tosca by Victorien Sardou.
---
The action takes place in Rome, in 1800.
ACT I
Cesare Angelotti, the former Consul of the Roman Republic, having escaped from the "Sant'Angello" prison, hides in the "Sant'Andrea della Valle" church of Rome. Here, painter Mario Cavaradossi is working on a fresco of Mary Magdalene. The sacristan is surprised by the similarity between the painted image and a physiognomy he had recently seen. As the painter remains alone, Angelotti comes out and recognizing an old friend in Cavaradossi, he asks for his support. The painter promises he will help him run away. The voice of Floria Tosca, Mario's girlfriend, is heard, and Angelotti has to retire again. Despite all her questions, Mario does not betray his friend. Floria recognizes the similarity of the picture to the Marchesa Attavanti and shows her jealousy. Mario calms her down and she leaves, as she invites him to her concert at the palace. The painter leaves with Angelotti. As they are trying to find a safer hideout, baron Scarpia, the head of the police, arrives looking for the escapee. Scarpia finds a fan in the chapel of the Attavantis and, before participating in the "Te Deum" that celebrates Napoleon's defeat, he makes Floria Tosca suspect she has been lied to.
ACT II
Scarpia impatiently waits for his agents to come back. The music of the celebration in the Farnese Palace can be heard through the windows of his apartment. Spoletta informs that, though they have followed Tosca and have searched Cavaradossi's villa, the police was unable to find Angelotti, so they arrested Cavaradossi. Despite the tortures he is subject to, Mario gives them no information. Tosca also refuses to answer Scarpia's questions, but, hearing of her lover's suffering, she gives up and discloses where Angelotti is hidden. Napoleon's victory in Marengo is announced. Scarpia orders that Cavaradossi should be imprisoned and executed on the following day for treason. Tosca pleads in vain; Scarpia will only forgive Mario in exchange for her favours. Tosca agrees, after she obtains a mock execution for her lover and a departure permit from Rome. As Scarpia wants to embrace her, Tosca kills him.
ACT III
At dawn, on a terrace of the Sant'Angello Castle, Mario is waiting for his execution. With emotion, in one last letter, he evocates his girlfriend's face. She arrives happy and informs that she has obtained forgiveness for him, after a mock execution. The news of Scarpia's death makes Mario face the firing squad with no fear, thinking he will be able to leave with the one he loves. However, the squad kills Mario and Tosca, desperate, runs off the castle parapet.
*Grigore Constantinescu & Daniela Caraman-Fotea, Ghid de operă, Bucharest, 1971
**Ana Buga & Cristina Maria Sârbu, 4 secole de teatru muzical, Bucharest, 1999
***Ioana Ștefănescu, O istorie a muzicii universale, Vol. IV, Bucharest, 2002