Artists
ANCA ȚECU
Actress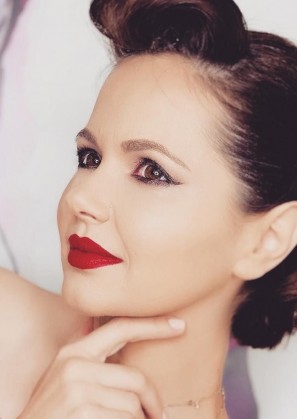 Anca Țecu graduated the Arts Department (Theatre) of the University from Craiova, standing out as a student thanks to her freshness and depth of interpretation of many roles such as: Ilinca in "Moromeţii" by Marin Preda, Ines in "No Exit" by J. P. Sartre, Vera in "The Wedding Book" by G. Călinescu, Doruleţ in "A Winter's Night Dream" by T. Muşatescu, Ortansa in "Foolls under the Moonlight" by T. Mazilu, Marţafiţa in "The Country of Gufi" by M. Vişniec, Milena in "Family Stories" by Bljana Srbljanovic, Soniain "Uncle Vania" by A. P. Cehov or Ofelia in "Hamlet" (theatre and dance).
She shared a large range of characters on the stages of "Elena Teodorini" Lyrical Theatre (currently Romanian Opera from Craiova) and "Marin Sorescu" National Theatre from Craiova: Casual Woman / The Nun in"The Two Orphans" by Adolphe d'Ennery, The Narrator in "Human Stupidity", after Ion Creangă, Sorina / Flower Fairy in "Înşir-te mărgărite" by Victor Eftimiu, Casual Woman in "Don Juan" by Molière, Maria in "The Misunderstanding" by Albert Camus, "The People" in "Conu' Leonida față cu reacțiunea", by I. L. Caragiale,The Professor in "Reenactment", a collage of texts by Eugene Ionesco and Matei Vișniec, Grizetă in "The Merry Widow" by Franz Lehár, Țic-Țic in "Little Dorothy" by Marius Ţeicu, The Companion in "The Sleeping Beauty" by Marius Ţeicu, The Apprentice in "The Doll Fairy" by Josef Bayer, Cinderella in "Cinderella" by Dumitru Capoianu, The Child in "El Amor", artistic and choreographic direction by Francisc Valkay, Cecily in "Good Evening, Mr. Wilde!", artistic direction by Alina Rece, Adelheid in "Hänsel and Gretel" by E. Humperdinck.
She attended theatre festivals, such as the International Neoavangardist Festival from Iaşi, the International Festival of Studio Theatre from Piteşti and The Underground Theatre Festival from Arad.