Artists
Arabela Tănase
Artistic director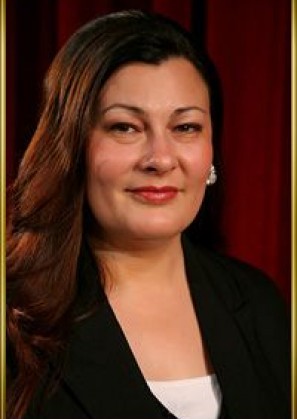 Arabela Tănase graduated the Music High School from Craiova and the National University of Music from Bucharest - major in Music Stage Direction, under the guidance of prof. George Zaharescu.
As of 2000, she is an artistic director at "Elena Teodorini" Lyrical Theatre (currently Romanian Opera from Craiova). In this position, she has staged important performances of the local lyrical theatre, such as the operas "La Traviata", "Lucia di Lammermoor", "Drama at the Monastery" – worldwide premiere, "Don Pasquale", "Boema", "The Barber of Seville", the operettas "The Bat", "The Merry Widow", cantata profana (with ballet) "Carmina Burana" and the musical comedy "Who's Your Daddy?". Arabela Tănase has also envisioned the artistic conception of several lyrical, tribute, anniversary and holiday performances.
She provided assistant direction for several premieres and reruns of the theatre: "Carmen", "The Troubadour", "Don Giovanni", "A Masked Ball", "Turandot", "Countess Mariza", "The Merry Widow", "Nabucco", "Cavalleria Rusticana", "Pagliacci", "Aida", "The Poacher", "Boccaccio", "Madame Butterfly", "Tosca", "Let Me Sing", "Falstaff", "Don Pasquale", "Cinderella", "Rigoletto".
By seriously reflecting upon the creative act itself and the interpretive act, Arabela Tănase, as a director, has understood to embrace the creation of the others, not only by retracing the path of the composer, but also by trying to discover the meaning of each score by a severe, rigorous and scholarly analysis. That is why her directing versions are impregnated by an artistic vision which encompasses the balanced merger of emotion and reason, sensibility and abstract, and their transfer into the sober level of aesthetic and philosophical reasoning.
Throughout her activity of coordinating the musical theatre and bringing a performance to life on stage, her efficient cooperation with all her main partners - singers, actors, conductor, set designer, choir conductor, choreographer and the technical stage staff (scene handlers, props, electricians - supervised by the technical director) - has been and continues to be critical and decisive for the director Arabela Tănase.