Artists
Cherata Ioan
Bariton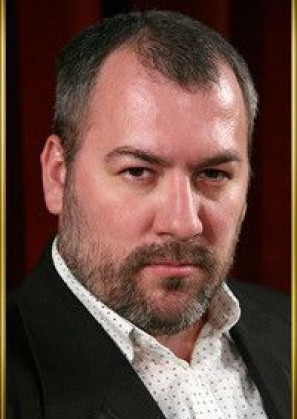 Born in Cluj-Napoca in 1976, the bariton Ioan Cherata graduated the Bachelor and Master studies at "Gheorghe Dima" Music Academy from the town on Someş river. He is an assistant lecturer in the Arts Department of the Faculty of Letters, at the University of Craiova.
As of September 2012, he is a doctor in music at the National University of Music from Bucharest and a finalist of "Umberto Giordano" International Canto Competition, held in Foggia, Italy (2001).
He made his debut as a lead singer at "Elena Teodorini" Lyrical Theatre (currently Romanian Opera from Craiova) in the role Mandarin from the opera "Turandot" by G. Puccini, followed by various notable parts such as: Ford ("Falstaff" by G. Verdi), Amonasro ("Aida" by G. Verdi), Renato / Samuel ("A Masked Ball" by G. Verdi), Escamillo ("Carmen" by G. Bizet), Marcello ("Boema" by G. Puccini), Sharpless ("Madame Butterfly" by G. Puccini), Ping ("Turandot" by G. Puccini), Sacristan ("Tosca" by G. Puccini), Tonio ("Pagliacci" by R. Leoncavallo), Alfio ("Cavalleria Rusticana" by P. Mascagni), Dr. Falke ("The Bat" by J. Strauss), Mihai ("Drama at the monastery" by C. Ungureanu), and in concerts as Count Almaviva ("The Wedding of Figaro" by W. A. Mozart), Belcore("The Elixir of Love" by G. Donizetti), Pimen ("Boris Godunov" by M. Mussorgski) and Peter ("Hänsel and Gretel" by E. Humperdinck).
At the same time, the bariton Ioan Cherata b­ecame also known for his interpretation of some representative solo parts from the vocal-symphonic works: J. S. Bach ("Magnificat in D major", BWV 243; "The Christmas Oratorio", BWV 248), W. A. Mozart ("Coronation Mass", K 317; "Requiem in D minor", K. 626), Fr. Schubert ("Mass No. 2 in G major", D 167), P. Constantinescu (Easter Byzantine Oratorio "The Passions and Resurrection of God"), N. Astrinidis (worldwide premiere of the oratorio "Youth of Alexander the Great"), G. Fauré ("Requiem"), S. Rachmaninov ("The bells"), L. van Beethoven ("Mass in C major").
He frequently performs on important stages in the country and abroad , participating to many tours organizes by the lyrical theatre from Craiova in Italy, Germany, Switzerland, Spain. In Romania, he works together with the philharmonics from Bacău, Braşov, Craiova.
For his exceptional performances, Ioan Cherata was awarded in Piatra Neamţ with the Diploma of Excellence signed by Ioan Holender and the soprano Marina Krilovici, and in November 2013 he was a finalist of the first edition of "Elena Teodirini" International Canto Competition that took place in Craiova.