Artists
NOFERI EDITH
ACTRESS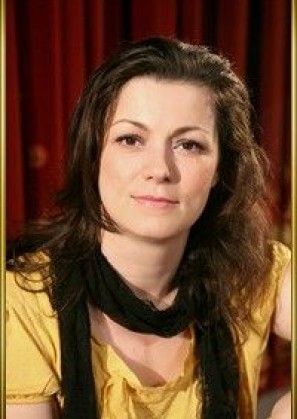 Edith Mag graduated the 2003 class of the Acting section of the Performing Arts Department of the Faculty of Letters of the University from Craiova. As a student, she played several roles, including: Anghelina Boțochină in "Moromeții" by M. Preda, Sonia in "Crime and Punishment" F. Dostoievski, Helena in "Look back in Anger" by J. Osborn, Silvia in "These Sad Angels" by D. R. Popescu, Crooked Mouth in "The Third Hustle" by M. Sorescu, Natalia in "A Marriage Proposal" by A. P. Cehov, Martha in "Who's Afraid of Virginia Woolf" by E. Albee, Witch I in "Macbeth" by W. Shakespeare, Jaqueline / Martine in "The Doctor in Spite of Himself" by Moliѐre and Iulca in "A Roaring Tragedy" by D. Kovacevici.
She worked at "Elena Teodorini" Lyrical Theatre from Craiova between 2002-2005, where she had her debut with the role The Step Mother in "Cinderella", followed by different parts in children musicals: Baba Vâjbaba in "Long road, short story", Ms. Darling in "Peter Pan", the Fairy in "Long road, short story", Childhood Fairy in "The Sleeping Beauty" and the Guide in the operetta "The White Horse Inn".
She was invited to I. D. Sîrbu Dramatic Theatre from Petroşani in 2005, where she performed in plays for children (the Secretary in "The Curse of the Fairy" by M. Andras, Baba Agripina in "Dogarul cel isteţ" by R. Botar, the Middle Sisterin "Harap-Alb" after I. Creangă, by Ştefan Oprea), but also for adults (Eulampia Bozdog in "The Belongings" by I. D. Sîrbu, Solange in "The Maids" by J. Jenet, Nicole Aron in "Face to Face" by F. Joffo, Mrs. Linde in "The Daughter in Law" by H. Ibsen and Mrs. Isabelle du Rompoingt in "The Liar" by J. J. Bricaire / M. Lasaygues, Wife, Clerck, Colleague, Traveller, Augusta Gurievna, Marina Istamina, Vera Andreevna in "A Man and Several Women" by L. Zorin).
In 2008 she returns to "Elena Teodorini" Lyrical Theatre (currently Romanian Opera from Craiova) with plays for children, musicals and operettas, interpreting characters such as Olga in "The Merry Widow" by Fr. Lehár, Ida in "The Bat" by J. Strauss, Gwendolen Fairfax in "Good Evening, Mr. Wilde!", The Fox in "The Disobedient Rooster" by I. Lucian and Gertrude / The Writer in "Hänsel and Gretel" by E. Humperdinck.
At the same time, she is a doctor assistant lecturer at the Arts Department, Theatre section, and published two books, reviews in Spectator magazine, and scientific articles in specialized journals.
She is a member of Teatrulescu Company – alternative theatre supporting the development of underground theatre – where she performed in "A Man and Several Women", adaptation after L. Zorin under the direction of Raluca Păun, directed "Stop the Tempo", based on a script by Geanina Cărbunariu, while activating as an acting teacher for children at Teatrulescu Junior.