Artists
VARI RENATA ORSOLYA
SOPRANO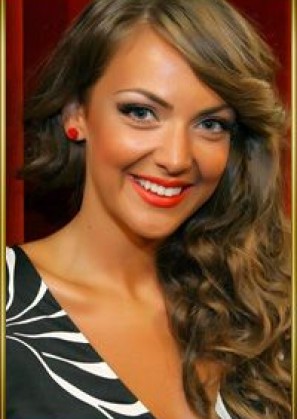 Soprano Renata Vari attended the Arts High School in her hometown, Baia Mare, and in 2011 graduated the Bachelor and Master studies of the Music University of Braşov, in Claudia Pop's canto class.
As a student she had the opportunity to debut in two important roles of Mozart's lyrical repertoire:Donna Elvira from "Don Giovanni" and Pamina from "The Magic Flute". She also performed in chamber music concerts, with lieder by W. A. Mozart, Fr. Schubert, R. Schumann, J. Brahms, R. Strauss, M. Reger, as well as opera or vocal-symphonic concerts, accompanied by the Orchestra of the and the Philharmonic Orchestra from Braşov.
Renata Vari's carreer took off in 2011, when she performed her first concert in Como (Italy), which took place for a number of Italian personalities, among which was also Silvio Berlusconi.
An opera tour followed, with 33 performances as Abigaille from "Nabucco" by G. Verdi (short version), carried out in various theatres from Italy: Teatro Sociale di Como, As.Li.Co, Teatro Arcimboldi Milano, Teatro Reggio Torino, Teatro dell'Aquilla Fermo, Teatro Grande di Brescia, Teatro Varese, Teatro Comunale Bologna, Teatro Grande Brescia, Teatro Comunale Bolzano, Teatro A. Ponchielli Cremona, Teatro di Bergamo, Teatro Sociale di Trento, Teatro Olimpico di Roma, Teatro Verdi di Trieste, Teatro Verdi di Pordenone şi Teatro Duni di Matera.
In 2012 came the debut of the soprano at the Romanian Athenaeum from Bucharest, with a recital of opera arias and lieder, but also the debut in the operetta "The Bat" by J. Strauss, as Rosalinda, at "Elena Teodorini" Lyrical Theatre from Craiova (currently Romanian Opera from Craiova)
In 2013 she embarked on a new opera tour across theatres in Italy, which included 45 performances of the opera "The Flying Dutchman" by R. Wagner (short version in Italian), where she played the role of Senta.
Four debuts followed at "Elena Teodorini" Lyrical Theatre from Craiova, where Renata Vari became a full time singer at the beginning of 2013-2014 season: Hanna from "The Merry Widow" by Fr. Lehár, the lead role in "Countess Mariza" by E. Kálmán, Desdemona from "Othello" by G. Verdi andAmelia from "A Masked Ball" by G. Verdi. Renata Vari also resumed the role of Senta from the production "The Flying Dutchman" by R. Wagner, in German, at the State Opera from Magdeburg (Germany).
In November 2013, Renata Vari has been awarded the Second Prize at the debut edition of "Elena Teodorini" International Canto Competition and the Special Prize, offered by the Belgrade Opera and Ballet Company (Serbia), representing a role in an opera to be performed on the same stage.
In 2014 she had her first appearance on the stage of Romanian National Opera from Iaşi, in the role of Rosalinda from "The Bat" by J. Strauss and with two consecutive debuts in Musetta and Mimi from "Boema" by G. Puccini.
In addition to the roles already performed, Renata Vari's repertoire also includes The Countess from "The Marriage of Figaro" by W. A. Mozart, Leonora from "The Troubadour" by G. Verdi, Woglinde from "Twilight of the Gods" by R. Wagner and Rowan from "The Little Sweep" by B. Britten.
Renata Vari performed the soprano solo parts in several major vocal-symphonic works: "Stabat Mater" by G. B. Pergolesi, "Mass in A major" by Fr. Schubert, "Missa Nelson" by J. Haydn, "Vesperae Solennes De Confesore" by W. A. Mozart, "Requiem" by G. Verdi and "Stabat Mater" by G. Rossini.
"Soprano Renata Vari has impressed the audience with her vocal power, large ambitus and various voice colours, but also with her confident and modern presence on stage." (Dan Ghineraru, Radio România Muzical)